A NEW WAY
TO OFFER SURGICAL
SOLUTIONS FOR OBESITY
The first comprehensive bariatric surgery bundled payment solution for employers
BARInet's value-based bariatric surgery benefit management program is an add-on to your existing health benefits. Our unique, exclusive network of bariatric surgeons and healthcare facilities is clinically integrated to provide your members access to bariatric care at the highest level.
Innovative benefit design, ensuring the greatest possible outcomes.
Global Contracting
Our exclusive, narrow-network designs allows us to drive down pricing, while ensuring high-quality outcomes through our standard bundled design. Our bundles include "episode of surgery" discounted case rate pricing, with an extended readmission warranty.
Custom Benefit Design
Our carve-out design and non-essential benefit status allows for custom benefit design. From eligibility requirements, to separate copay amounts, design a benefit that works within your budget, and that will ensure the greatest chance for success.
Member Engagement
We offer engagement service aimed at improving utilization and outcomes. These services include incentive design & management, custom communication campaigns, and integration with existing programs and communication channels.
Seamless Integration
Implementation and operation of our benefit is effortless, from efficient claims processing to integration with existing benefits. You can easily customize policies and procedures to fit your organization.
Data Reporting
Program monitoring and data reporting systems available with the ability to measure and report program effectiveness.
Top Quality Providers
Exclusive access to top-quality surgeons and hospitals in your local market. We identify them using a proprietary underwriting model focused on quality. Quality care is top priority, and we continually work with our stakeholders, including patients and strategic partners, to improve our results.
Care Coordination
Concierge care service available to assist plan members throughout their care process. We are there along the way to both improve the care experience and reduce the cost of care for plan members.
Clinically integrated to provide access to bariatric care at the highest level.
BARInet Fits Seamlessly Into Your Benefit Solution.
BARInet manages the entire process for the plan members, while maintaining close coordination with carrier/administrator/HR for eligibility verification, care coordination, reporting, member engagement, and claims administration.
Truly integrated medical management to assure that the health care services your plan members receive are appropriate, medically necessary and meet standards of high quality and cost-effective care.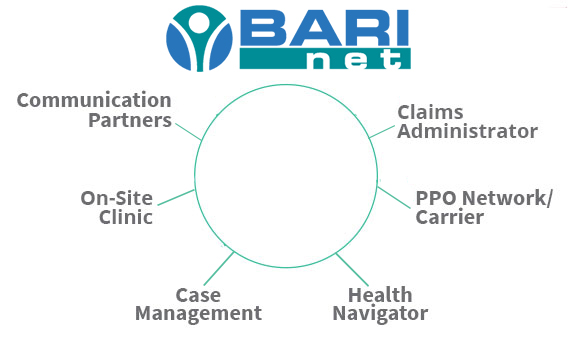 Real Results. Real Savings.
Actual results achieved by BARInet customers
Type 2 Diabetes Resolution
High Cholesterol Reduction
Fatty Liver Disease Resolution
What Our Clients Are Saying
"
As drug costs rise along with the prevalence of high-blood pressure and diabetes, this benefit can help the employees possibly reverse the medical conditions, and positively impacting the prescription claims of the employer.
"
– Amy Sutton, CBIZ Benefit Consultant
"BARInet has stood out among our benefit offerings, as we have seen a truly positive change within our obese member population."
– Clint Pilmer

"
We see BARInet success stories walking around our office everyday. The weight loss is incredible, and so is the boost of confidence and energy these employees gain.
"
– Sarah Jingle